Padded vs. Non-Padded Bras: Understanding the Differences with INGRID Bra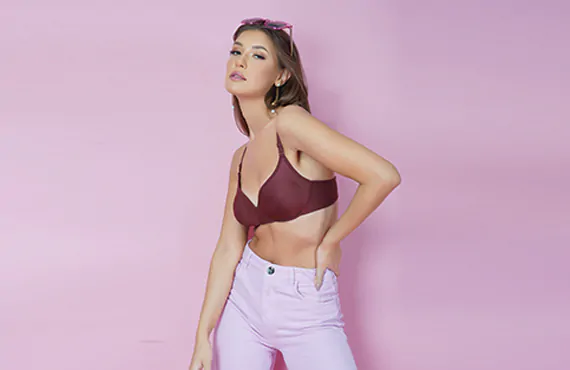 Women may encounter a bewildering array of alternatives when selecting the ideal bra. Padded bras and non-padded bras are the two popular varieties that women encounter among these choices. Although they have similar functions—support, and comfort—each has unique qualities tailored to particular demands and tastes. 
Here, we'll examine the distinctions between padded and non-padded bras and explain why INGRID Bra is a top brand for women's bras.
Padded Bras: Enhancing Shape and Volume
Padded bras feature foam inserts or additional cushioning in the cups. These bras are renowned for their capacity to accentuate the size and form of the breasts, giving them a larger and more defined appearance. The following are some aspects of padded bras:
The padding in the cups gives the breasts a light lift and moulds them, making them look rounded. As it gives the appearance of a bigger breast, they might be especially helpful for people with smaller busts.
Padded bras are the best choice for women who wish to appear more demure since they provide an additional layer of coverage. They can make a person's outline appear smoother underneath clothing and assist hide nipples.
Padded bras frequently have underwire and thicker straps, which offer support and aid in more equitable distribution of the breasts' weight. Women with larger busts who want more support during the day may find this to be beneficial.
Putting Comfort and Natural Shape First with Non-Padded Bras
Non-padded bras don't have any extra cushioning or foam inserts. As well as providing comfort and breathability, they are made to complement the breasts' natural shape. Consider a few qualities of non-padded bras:
Bras without padding allow the breasts to move gently and without restriction while yet maintaining their natural shape. Feeling and appearance are normal. For individuals who like a subtler, more natural look, these bras are a perfect option.
Lightweight and Breathable
Without the additional padding, non-padded bras tend to be lighter and more breathable, which makes them appropriate for hotter temperatures or vigorous activity. They offer a loose fit and better airflow, which lessen sweating and discomfort.
There are many different designs of non-padded bras, including bralettes, sports bras, and everyday bras. Women have the ability to make their own decisions based on their likes and demands because they offer versatility for various events and outfits.
Why Choose INGRID Bra for Your Undergarment Needs?
Selecting a trustworthy company that offers both quality and variety is crucial when buying bras online. One such distinctive brand on the market is INGRID Bra.
Here's why INGRID Bra is the best option for shopping bras online::
INGRID Bra is renowned for its premium materials and craftsmanship. Our bras are made with the finest attention to detail to offer exceptional comfort, delivering a comfortable fit all day.
Whether you're looking for padded or non-padded bras, INGRID Bra has a variety of choices to fit your preferences. You can discover the ideal fit for each event, from daily bras to sports bras.
INGRID Bra is aware of the differences between each woman's body types. All women may find the ideal bra that fits them exactly because we provide a wide selection of sizes.
Shop the Best Bras Online with INGRID Bra
Your daily comfort and confidence can be greatly improved by finding the ideal bra. You may find a variety of padded and non-padded bras from INGRID Bra to suit your needs. 
Visit our website right away to look through our selection and discover the greatest bras for your personal taste and comfort. Shop online now!